CCIE 38619 - 10 years
Ten years ago I passed the CCIE RS lab exam , now renamed CCIE Enterprise Infrastructure .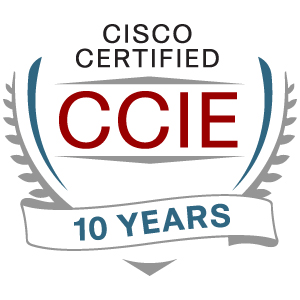 I shared some considerations about my experience on LinkedIn , reposting here:
---
Exactly ten years ago I was walking out of the Cisco office in Brussels after taking one of the most difficult technical exams of my career.

It was the second time I faced the same test, and unlike the one two years earlier, this time I was convinced I had a very good chance of success.

The result came only the morning of the next day, a "PASS" that represented at the same time relief for having freed myself from a commitment lasting several years and joy for having succeeded in achieving a goal I had given myself a few years earlier.

Since then I have broadened my technical knowledge, ranging from design to cloud, from security to virtualization. But even more important has been deepening soft skills such as time and priority management, negotiation and conflict management.

I still have a long way to go but today I want to take the time to celebrate this important achievement, knowing that it was a starting point and not an end point.
---
The only advice I would give to those who are considering whether to take the same path is to give due weight to those who say it is not worth it. Preparing for such a difficult exam is first and foremost a personal challenge, to prove to yourself that you can do it.
Certainly then there are benefits in terms of work and career, as well as status, the goal, however, is not the result but the journey, which makes us better.
Ten years later, there are more things from the exam that I have forgotten and have become obsolete than those that I actually use. But the method of working and approaching problems have stayed with me and made me a better professional.
So I wish good luck to all those who are now preparing for a CCIE exam, with the warning to spend more time studying than sharing on social media.
We live study as we dream–alone.