CCIE recertification with Continuing Education Program
Beginning June 2017 Cisco introduced the Continuing Education Program as a new way to recertify expert level certifications.
Recertification is part of the life of all active CCIEs . The process used to be an option between passing a CCIE written exam, passing a lab or getting Emeritus after 10 years, losing all CCIE privileges.
The CE program allows to collect credits when attending eligible Cisco events or training. With 100 credits you earn the recertification.
My experience
The first time I accessed the CE portal I noticed Cisco Live is included in the program so I submitted my participation and got the first 19 points. That was easy, considering I didn't scheduled the sessions with any consideration about the number of credits provided.
To collect 81 additional credits I looked for eligible training.
An ACI project already already signed by a customer lead to the first training: Configuring Cisco Nexus 9000 Series Switches in ACI Mode (DCAC9K) . This was a classroom training and a good start to deploy the first ACI datacenter. 40 points more on the basket.
The second training I chose was Designing and Implementing Cisco Network Programmability (NPDESI) . The training can be self-paced e-learning or in classroom .
From a money and time perspective the e-learning would have been my first choice but I did the classroom training. Main reason for that is to avoid distractions and to focus on the training - the option to attend the e-learning in office instead from home-office is not very productive.
I got 50 points for NPDESI and reached the minimum of 100. Recertification done!
Note: points above 100 are lost and you can't earn more points before the expiration date of your CCIE. In my case this means I will not get any point from attending Cisco Live Europe in February 2019 because my CCIE expires in March.
Submit training
The process to get the credits after each training is quite simple: just enter training code, provided and start/completion dates on the CE portal . A few days later you get an email to confirm the credits were added to your profile.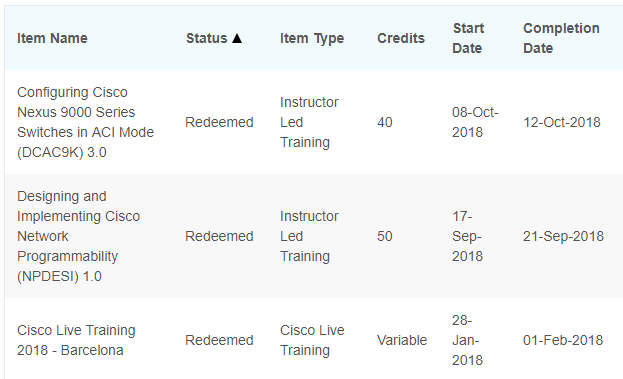 For more information about CE read the Cisco Continuing Education Program FAQ
Fastest & Cheapest path
Some fellow CCIEs asked what is the fastest and cheapest path to recertify using CE credits. Imho NPDESI and NPDEV , for a total cost of 1500$ are the best path if you're interested in programmability and Python.
Final thoughts
I must admit I wasn't excited by the CE program when I read about it the first time. My plan was to prepare for a CCIE written exam on a different path, Security or Design were my best options. But life (or work) is what happens when you're making other plans, so I switched to the CE program to recertify and I was satisfied by the experience.
Training is path of all technical professionals in my company so a couple of training per year are normal. The option to recertify CCIE with training makes sense and is much better than studying for the (almost) same written exam every two years.
What about you? Will you use CE next time?