CWNA
Last week I passed PW0-105 exam and obtained the CWNA certification: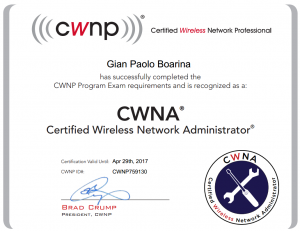 I work with wireless network since 2005, I began installing some SoHo APs and in the last few years I designed and deployed many bigger networks, some of which are challenging high density environments.
I read many Cisco documents about wifi design and in this year's Cisco Live I attended many session related to wifi. After passing CCNA-W I didn't felt confident enough, I know how to design, install and troubleshoot a wireless network but I wanted to have a deeper knowledge of the technologies involved ant how the protocols work.
That's the reason why I started the CWNP path that one day may lead me to CWNE . Wifi is growing fast and event if CCIE Wireless is very tempting I work with many vendors and I prefer a vendor agnostic approach.
My advice for any network engineer who works with wireless it to take this exam or at least read the study guide that is clear and well written.
Useful links for wifi in general
Cisco Design Zone for Mobility
WLAN Book   offers no cost tips, analysis, and tools related to WLAN products and technologies
WLAN Pros  by Keith Parsons
Videos of WLAN Pro 2014 conference
Aruba Validated Reference Design Guides
Wirelessdefence.org - A Wireless LAN (WLAN) security site provided for 802.11 (aka Wireless, aka WI-FI) - Security Auditors and Penetration Testers.
Free Space Path Loss Calculator
The Wi-Fi CERTIFIED™ Product Finder provides a real-time list of Wi-Fi CERTIFIED products in a variety of categories. 
Security
SANS Wireless Security Policy Templates
[NIST Security](http://csrc.nist.gov/publications/PubsTC.html#Communications%20& Wireless)