NtRadPing - a free Radius test utility
Quite often when a network configuration includes authentication or 802.1x on network devices Radius is the protocol of choice.
NtRadPing is a free utility to test a Radius server.
The usage is simple: insert the IP address of the radius server, the secret, user name and password of the user to test. Remember to add the IP of the PC as NAS on the Radius server to allow request to be processed and answered.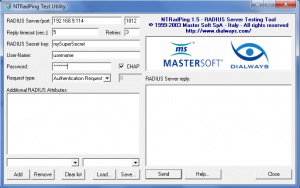 You can download it from the Novell website HERE .